I'm so excited!  I didn't have a blog when I was planning my wedding ten years ago and I've loved reading the blogs of women who are soon to be married, so this is so exciting for me!
I get to blog about a wedding!  Not my wedding of course.  No, Husband and I are still happily married and plan to be for another million years (stop hyperventilating dear.)  So, I'm blogging about Ashleigh's wedding (Lallie's Godmother and my best friend, as a refresher).
The date has been chosen, the hotel rooms are booked, the bridal party announced (yours truly being the Matron of Honor, a/k/a MOH), the dresses chosen and purchased and now it's down to the nitty-gritty details.
So, where is the wedding?  Not telling.  But I can post a few pictures of this destination wedding.  If you guess, then you've had the unique pleasure of visiting there.  Yes, it's an island somewhere in this grand world of ours.
The date?  Again, not happening.  As if I want a bunch of blog stalkers crashing Ashleigh's wedding (not really, but you know what I mean, crazy lunatics – longtime bloggers will find this funny, sort of).
The dress?  Nope….the fiancé reads my blog.  Sometimes.
Bridesmaid dress?  OK, now we're talking!  Alfred Sung in Appletini. Isn't it gorgeous?  Ashleigh and I poured over dozens and dozens of dresses, emailing/texting/chatting back and forth on the perfect dress for all eight of the bridesmaids (yes, you read that right…..eight!)  During one of Ashleigh's dress hunt outings, a couple of the maids tried on this dress and decided, it was a go.  I can't wait to get it!
We will be wearing these very classy dresses and walking barefoot.  The groomsmen too.  Ashleigh wanted a formal beach wedding, so we'll have formal wear while keeping the wedding down-to-earth by not wearing shoes.  The guys are still pondering their outfits, but it looks to be white shirts with appletini ties and khaki pants.  I can picture it all against Ashleigh's dress and it is going to be stunning!  STUNNING I tell you!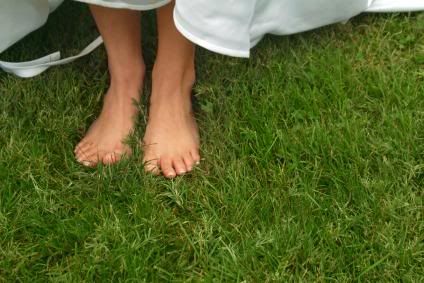 The flower girl dresses are going to be so cute!  I'm making them for the three flower girls, one of them being Lallie.  She recently had great practice in Jess' wedding (if you're new here, that's my new sissy-in-law).   The dresses are very beachy and whimsical, while matching the formalness of Ashleigh's dress and the bridesmaid dresses.  I'm currently sewing a trial run of the dress with pink and white polka-dot fabric with white ruffles.  I'll be sure to post pictures when I'm finished sometime next week.  The girls will go barefoot as well.  (Photo credit: Picture from the front of the pattern which can be purchased HERE).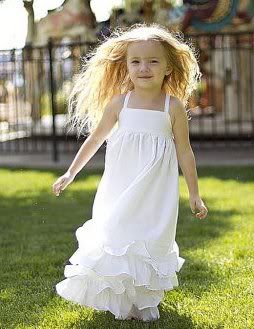 There will be a bonfire for the rehearsal dinner, a bridesmaid luncheon on Saturday during the "get ready" party and while all this is going on, the guys will be golfing.  No surprise there, seems to be the thing to do for guys when a wedding is involved.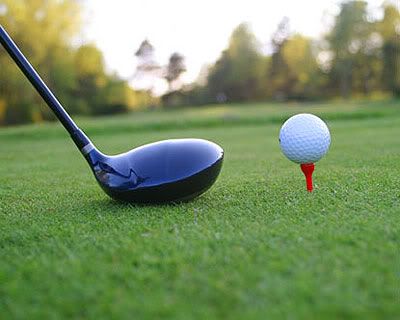 So far, that is what is happening with Ashleigh's wedding.  As details are finalized, I will give updates!
Happy Wednesday Y'all!