....to my daughter's shoe fetish! Yeah right, I'll just keep telling myself that.
Yesterday morning, I went to put on a pair of strappy heeled sandals only to find that they are completely stretched out and my toes slid out over the edge of the shoe! Hollon LOVES shoes, and insists on wearing mine. This is because we don't let her have all her shoes at once. Why? Because she makes us put them on her, and then take them off to put on another pair and so on and so forth. It becomes quite tedious and when we stop, she throws a fit that would rival an angry bear! Toddler shoes are just too complicated for her to put on and off by herself (except for her Croc knock-offs from CVS which she refuses to take off....except to wear mommy's shoes). Anyways, her little foot has managed to stretch out my shoes, or put knicks and scraps in some of my other shoes. In an effort to save my personal shoe collection, I trotted off to Toys-R-Us, expecting to find fashionable Kate Spade play shoes for toddlers. Instead, I find these:

"No, no, no, no, no, no..." I mumbled to myself. I was actually surprised at their selection of play toddler shoes. Seriously, don't they have something much more fashionable for toddlers than a pair of plastic Disney Ariel shoes with plastic beads? Very disappointing. Obviously, I've completely forgotten that these shoes are not for me. Suddenly, I saw these for $4.49!

They screamed Hollon. Pink and fluffy, yet simple and tasteful for my two-year old. Though, if these were adult shoes on sale at our local Macy's....well, I just don't think I'm going to go there (either the story or the store, which is probably not Macy's). BUT, they're prefect for my two-year old! Hmm, maybe I should have re-thought this purchase? Nah, they're too cute! ;-)

She LOVES, loves, loves them, and now mommy's shoes will remain perfectly in tact (however, my couch is now suffering as it has pink fluffy stuff covering it - guess I need a new lint roller).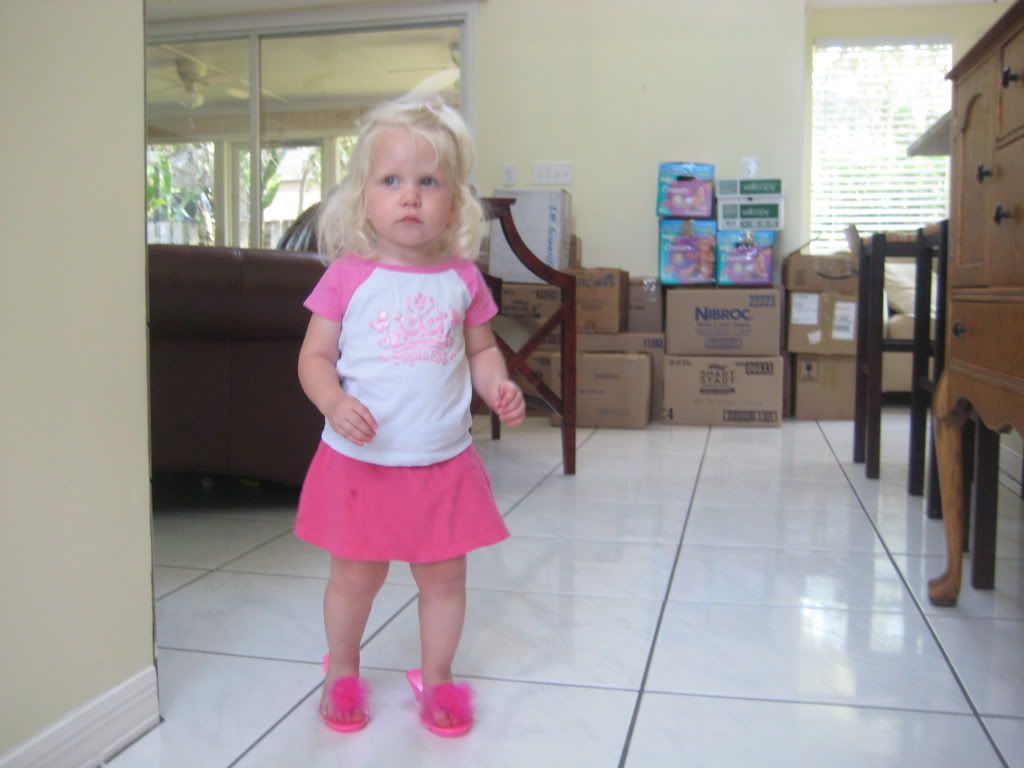 I feel I need to explan Hollon's outfit. She had just gotten home from school. She had gotten paint all over her other outfit and this is what the school put her in - a mis-matched pink outfit....well, at least it's pink! On another note, can you tell we're moving?